This post presents the key features that were added to the v2 of the Project Planner (Advanced) Excel template. Thanks to the hundreds of customers who have purchased the v1 and a special thanks to those who have taken the time to provide feedback on the template. As always, the current customers will get the upgraded version for free. 
ENHANCEMENTS
1. Control Maximum Daily Allocation % of a resource's time to a task
You can now assign a maximum daily allocation % to each task. This maximum % is used to limit how many hours a resource will work on that specific task daily.
For example, in the example, DEVELOPER is given max 50% allocation to Task ID 2. This is reflected in the Gantt chart where for Task ID 2, the resource can work only a max of 2.5 hrs, since the resource is available 5 hrs a day overall. (2.5 hrs is 50% of 5 hrs).
This allows the resource to work on another Task (Task ID 8) on the same days. Using this feature you can make sure that the resource can work on tasks in parallel.
2. Customizable Gantt Charts (Daily/Weekly/Monthly and any start date)
Gantt Chart can now be modified to be Daily/Weekly/Monthly. You can also customize where the Gantt chart begins by choose any start date.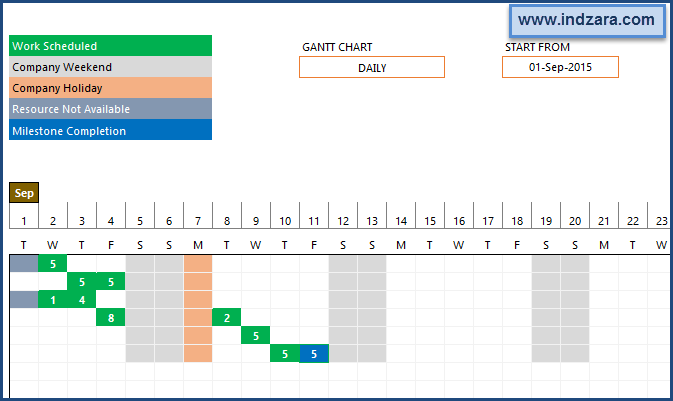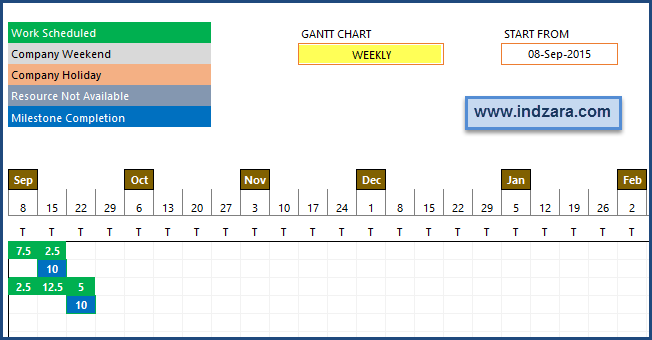 Project Planner (Advanced) Excel Template – Schedule – Gantt Chart Weekly
Project Planner (Advanced) Excel Template – Schedule – Gantt Chart Monthly
3. Personal Leave for resources
Personal Leave for resources can now be in hours. V1 allowed only whole days.
4. Increased Resources, Projects and Tasks
The template can now handle up to 30 resources.
It has also been redesigned to provide users the ability to increase number of tasks and projects as needed. Please visit How to expand number of projects and tasks page for more details.
5. Milestones
You can now select some tasks as Milestones. They will be highlighted in the Task Schedules and Gantt chart.
In the newly created column (MILESTONE), select Yes if a task is a milestone.
You will now be able to see those milestone tasks in Task Schedules sheet. The tasks will be shown in bold font and also the Gantt chart will show a blue filled cell where the milestone task is completed.
6. Highlighting tasks that will complete after preferred end dates
Project Planner Advanced Excel Template – Project Timeline view
Project Planner Advanced Excel Template – Task Plan Result
7. Fixed Project Costs
Fixed cost of projects can now be provided. It will be used to calculate overall costs. Overall Cost of the project will be Fixed Cost + Resource Cost. Resource cost will be based on hourly rates of the resources working on the project's tasks.
Project Planner (Advanced) Excel Template – Project Cost
8. Terminology modified to reflect that this is a planning template
There was some confusion when the v1 of the template referred to 'Completed projects' and had fields that were labelled 'Completed?'. Since this is a planning template, the 'completion' refers to the predicted completion of a project/task if the schedule developed by the template is followed. In order to remove this confusion, the labels have been modified to now say 'Will Complete', 'Will Not Complete', etc.