PLAN AND MANAGE
The template is a comprehensive solution which we can use to plan our project ahead of project start and then manage it to completion effectively and efficiently. We can create a baseline plan and lock it before project work begins. After the project work starts, as we input actual work performed, the current plan is updated instantly. We can then evaluate if the current plan has deviated from the baseline. We can also compare actual progress with baseline plan to identify if the project (or any task) is on track, ahead or late.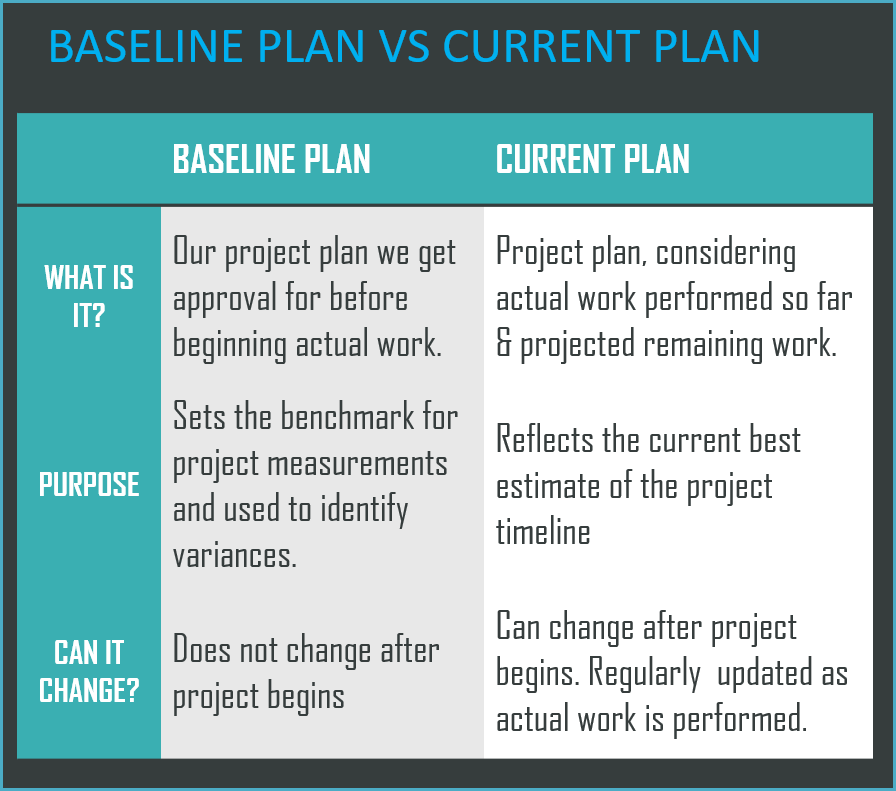 AUTOMATIC SCHEDULING
One of the key benefits of the template is that it will automatically create the schedule. Once provided inputs on resources (standard availability, vacation/overtime and company holidays) and tasks (hours required, resource assignment, start date constraint, predecessors), the scheduling engine will crunch through the inputs and create a schedule that specifies who works for how many hours on what task on a given day. This greatly saves time compared to a person (in PM role) manually calculating this level of detail. (Article on Automatic Scheduling)
The template creates two schedules, one for baseline plan and one for current plan. The current plan's schedule updates constantly with any changes in the actual work performed. These schedules drive all the reporting (which we will discuss further below).
In addition, a 7-day schedule is also displayed at a task level.
This also allows us to clearly see if there are days when a resource is unutilized or underutilized.
AUTOMATED REPORTING
Another place where we will save a lot of time is calculation of all the relevant metrics and reports. The template comes with Project Report, Task Report, Resource Report and Gantt Chart.
Project report
Relevant information about the project plans are calculated for us. Status of project, start and finish dates, hours scheduled, cost and resource utilization rate are listed for both baseline and current plans. In addition, we can also see the comparison of Current plan vs Baseline Plan.
We can also view the actual progress of the project as of the status date (which can be modified).
BURN DOWN CHART
COST MANAGEMENT (EARNED VALUE, PLANNED VALUE, COST PERFORMANCE INDEX)
TASK REPORT
While the Project Report summarizes the metrics at the project level, the Task Report provides the details for each task. This is immensely helpful to identify if there are any gaps or delays. The report shows the metrics for Baseline Plan, Current Plan and Actual separately.
RESOURCE REPORT
Resource report summarizes the performance measures for each resource. Once again, we see the measures broken down by Baseline Plan, Current Plan, and Actual.
You can also enter utilization rate threshold and the resources with utilization rates under the threshold will be highlighted immediately. This allows you to identify underutilized resources easily.
GANTT CHART
Gantt charts are commonly used to visualize project timelines. Here, we can customize the Gantt chart in many ways.
Period can be set as daily/weekly/ monthly
4 views: Baseline plan, Current Plan, Actual, Current Plan Vs Baseline.
Filter: All Tasks/Tasks specific to one resource/Only milestones.
Gantt Chart displays 52 periods and we can modify the start date.
By default, the Gantt Chart displays 30 tasks. We can choose to scroll to another set of 30 tasks by entering a number (as shown below).
SMART ACTIONABLE DATA
There are calculations and visual feedback throughout the template that enable us to take action to improve our project.
As we saw already on the Task report, it is easy to identify tasks that will not complete and tasks that are behind schedule.
On the Task Schedule, we can visually see the unavailability of resource assigned to task.
Cost Performance Index calculation flags whether we are under planned cost or over planned cost.
Project Report displays the status of the project indicating whether the project will complete or not. It also displays a comparison of current plan vs baseline plan to make sure that we are aware of the deviations if any.
On the Resource report, it is easy to identify underutilized resources. We also can see the unutilized time for each resource.
PRACTICAL FUNCTIONALITY
FLEXIBLE RESOURCE AVAILABILITY
VACATION/OVERTIME
HOLIDAYS
PREDECESSORS AND START DATE CONSTRAINTS
PRIORITIZE TASKS AND SET MILESTONES
READY TO PRINT/ EXPORT AS PDF
The reports are set to be print-ready. We can print or export as PDF (Excel's inbuilt export feature).